The return of Maple Leaf's community council and Summer Social?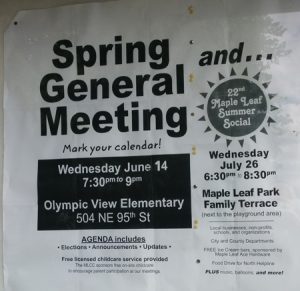 That's what a sign posted at the Maple Leaf Reservoir Park indicates.
The Maple Leaf Community Council, once very active in the neighborhood, largely disappeared last summer, if not before.
But Friday it posted the same sign to its Facebook page.
It calls for a general community meeting on Wednesday, June 14th, at Olympic View Elementary. And a revival of the Summer Social on July 26th.
We've asked for more information, although the council's website appears to remain down.
Our past post on this, from late March, is here: What HAS happened to the Maple Leaf Community Council?