Sound Transit officials will provide more details about upcoming construction, parking and other topics about Northgate Station at an open house from 6-8 p.m. tonight, June 4, at Olympic View Elementary School, 504 N.E. 95th St. Earlier this spring in March Sound Transit held a similar construction update. Here's a sneak peek at tonight's briefing: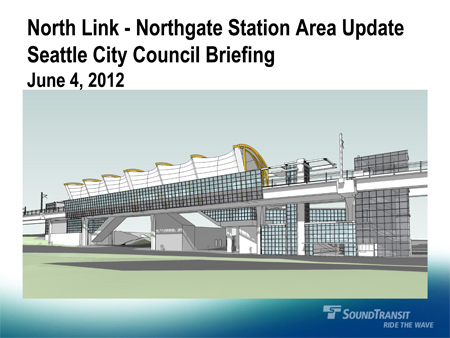 According to Crosscut, one of the options under consideration is the creation new garage with room for up to 920 spaces. From the article:
The garage is meant as "temporary mitigation" for the parking that will be lost during construction. Opponents, including Maple Leaf Community Council transportation committee chair David Miller, note that the project will only permanently displace 117 parking spots. A 900-car garage, in other words, would represent a net gain of nearly 800 spots, in an area where future developments are supposed to be transit, bike, and pedestrian-oriented.

"We're opposed to the idea of building more parking at Northgate," says Miller, who believes a "much better idea" would be to build a pedestrian bridge from North Seattle Community College across I-5 to link college students and commuters to the light-rail station. "If you're going to spend X number of millions on a garage, you're better off spending the same amount of money on a pedestrian bridge," he says.
Do you have an opinion on the proposed garage or other changes? Attend tonight's meeting or share your concerns/ideas via e-mail: main@soundtransit.org; snail mail at Sound Transit, 401 S. Jackson St., Seattle, WA 98104; or call 888-889-6368; TTY Relay 711