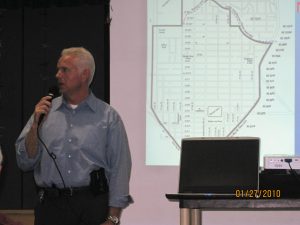 Life in Maple Leaf is safer than in many other North Seattle neighborhoods, and much safer than in the city as a whole. But residents here aren't feeling that way, they told police officials at the Maple Leaf Community Council's annual meeting on crime and public safety.
"I've been here since 1977," one man said. "It's been a lazy, lazy neighborhood. But within the last year a rash of stuff's been going on on our street."
That includes cars broken into, homes burglarized and – at the turn of the year – two armed robberies on Roosevelt Way, at Reckless Video and the Maple Leaf Pharmacy.
"He had a ski mask. He had a gun. He knew what he was doing. He had robbed before," Robbery Detective Mike Magan told the meeting crowd of more than 125 at the Olympic View Elementary School on Jan. 27.
The robber first scouted the pharmacy Dec. 21, Magan said, and was caught on surveillance cameras installed only the day before. "Forty-five minutes later a lone white gunman jumps over the counter with a gun and orders an employee to the floor."  The robbery left with Oxycontin, a powerful narcotic, and he left behind his photograph, which lead to his arrest a few days later. "It was a great job done by the people at the Maple Leaf Pharmacy," Magan said. [Read more →]