Since we last reported on the marijuana dispensaries popping up on Lake City Way, including Greenside Medical at 9804 Lake City Way N.E., and Delta 9 at 8007 Lake City Way N.E., at least two more are open or coming soon.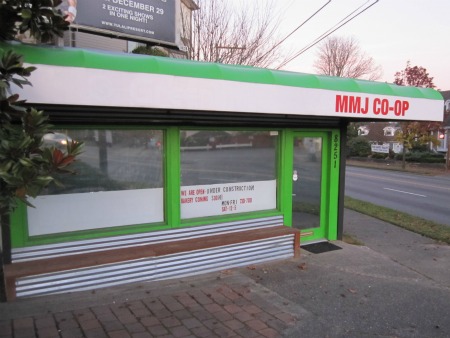 Although currently Delta 9 is the only one actually within the Maple Leaf neighborhood, it appears there soon will be two when MMJ Co-op opens at 8251 Lake City Way, the former location of Willie's BBQ.
The sign posted on the window states:
We are open – under construction. Bakery coming soon!
And let's not forget Greenworks Cooperative at 11064 Lake City Way N.E., which despite not being in Maple Leaf is still nearby and worth a mention.
So far, we haven't noted any disturbances at the dispensaries that are currently operating, but one neighbor wrote us and called the recent influx "alarming," and is wondering what other neighbors think.