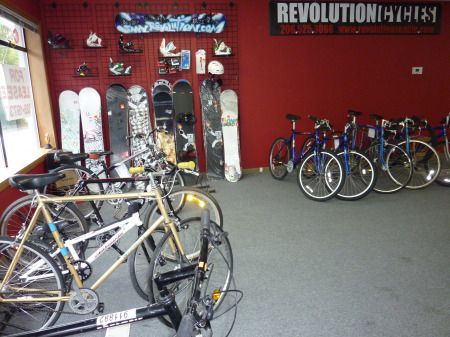 The pickings are slim on the last day that Revolution Cycles has its doors open at 9634 Roosevelt Way N.E., but the prices still might make it worthwhile for you to stop by before the end of the day.
If all you really need is a tune-up for your bike, though, Revolution Cycles will continue to have you covered. Owner Trask Fredrickson says he has plans for a valet service for the greater Maple Leaf neighborhood, in which he will pick up and drop off bikes that are in need of service, and provide a mobile service that will do the work at your house if all your bike needs is a quick fix.
Fredrickson also plans to offer corporate bicycle repair citywide for businesses that have about 10 bicycles in need of service. He'll show up at the office and provide the needed maintenance at the expense of the bike owners, but the business gets a tax credit for organizing the event.
"I'm trying to think of newer, greener, 21st century ideas," said Fredrickson, who also lives in Maple Leaf.
His website, RevolutionSeattle.com, will have maps that show his service area and that detail his services soon, he added.
For those of you who may be interested in leasing the space Revolution Cycles is vacating, here are some of the details: [Read more →]