We received a couple of emails from readers about items lost in the past week.
Emily Irwin with North Seattle Orthopedic & Community Acupuncture, 11329 Pinehurst Way N.E., told us:
On Monday someone locked a bike up to our bike rack but has not come back to get it since. It isn't it great shape but we were wondering if you could post something on your blog asking the owner to come pick it up? It almost seems as if it is stolen because it does not look rideable but the odd thing is that it is locked up. We have a very small bike rack and we need to be able to accommodate our patients who are cyclists. If we do not find the owner soon we will need to move the bike.
If you think the bike might be yours, call the clinic at (206) 524-6428.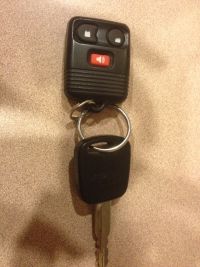 Reader Tamara Oki also emailed us about a Ford key and remote lock control, shown at left, that she found Wednesday on 15th Avenue Northeast between 82nd Street and 85th Street. Email her at tamaraoki@wonderanimal.com for more information.