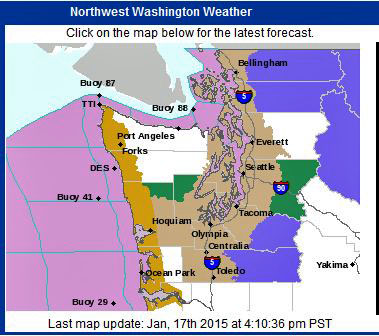 The local weather map is very colorful this evening – and for good reason.
We are under both a flood watch and a wind advisory.
The flood watch is mostly east of us, but does headline the Maple Leaf forecast.
THE LOWLANDS CAN EXPECT ABOUT 1-2 INCHES OF RAIN FROM ABOUT SEATTLE SOUTHWARD. IN ADDITION…THE SNOW LEVELS WILL BE RISING TO OVER 7000 FEET TONIGHT MAKING THE MAJORITY OF THE PRECIPITATION FALLING OVER THE MOUNTAINS IN THE FORM OF RAIN.
As to wind:
TIMING…WINDS WILL INCREASE DURING THE EVENING HOURS THEN WILL SLOWLY DECREASE DURING THE DAY ON SUNDAY.

* WIND…SOUTH TO SOUTHWEST 25 TO 35 MPH WITH GUSTS TO 50 MPH.

* IMPACTS…WINDS THIS STRONG CAN SNAP SMALL TREE BRANCHES… TOPPLE SMALL OR SHALLOW ROOTED TREES…AND CAUSE LOCAL POWER OUTAGES.