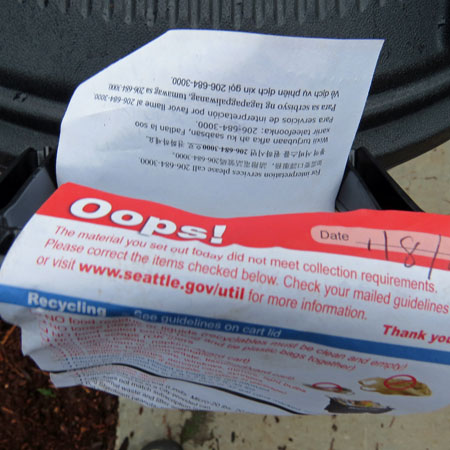 Update from Seattle Public Utilities:
At 10 a.m. on Wednesday, Jan. 7, 600 lucky Seattle residents who pledge to recycle and compost will receive a Collector's Edition Seattle Mariners Kitchen Caddy at the following locations:

Lake City Neighborhood Service Center at 12525 28th Avenue Northeast, Seattle, WA 98125

– See more at: http://atyourservice.seattle.gov/2015/01/05/seattle-mariners-kitchen-caddy-giveaway-jan-7/#sthash.NzpbOb5M.dpuf
———————————————–
As Maple Leaf enters its second week of trash checking, we're interested in hearing about neighbors' experiences.
After our first post on the new trash enforcement, one commenter noted:
I am conscientious when it comes to putting the proper items in the trash, as are all the neighbors on my block. Lo and behold, every trash bin on the block was red tagged today. The Trash Police did not specify what exactly was placed in the trash in error. So we get to move forward not knowing what was improperly tossed, and fines are the next step.
This did not seem to be the case on many blocks (we looked).
But this week KUOW has a story featuring Maple Leaf trash: "Seattle's scarlet letter for sloppy trash sorters."
The public radio station talked with Rodney Watkins, a lead driver for CleanScapes.
As Watkins made the rounds in Maple Leaf recently, he appeared disheartened to find an entire red velvet cake in someone's trash bin. Any house with more than 10 percent food in their garbage earned a bright red tag notifying them of the infraction.

"Right now I'm tagging probably every fifth can," Watkins said. "I don't know if that's just the holidays, or the fact that I'm actually paying a lot more attention."
Right now the tags are just a warning, but fines will apply beginning in July. For single households, $1 – but apartments, condos and commercial buildings could be fined $50.
More information from Seattle Public Utilities is here. KUOW says Seattle is the first city in the country to fine people for not properly sorting their garbage.