(Spoiler alert: Doesn't look like it.)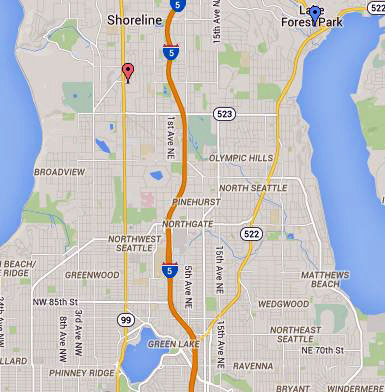 Eric emails: "Thought you might be interested in this story. 'The Northeast 75th Street and Roosevelt Way Northeast Safeway may be changing to a locally owned Haggens.'"
He references a story in Friday's Seattle Times which notes that Haggen, out of Bellingham, "has entered into an agreement to acquire 146 stores as part of the Federal Trade Commission (FTC) required divestment brought about by the merger of Safeway and Albertsons announced in March.
For the last three years, Haggen has been remodeling the remaining Haggen and Top Food stores to highlight its ties to the Pacific Northwest by rebranding the stores as Haggen Northwest Fresh.

"Our Pacific Northwest grocery-store chain has been committed to local sourcing, investing in the communities we serve, and providing genuine service and homemade quality since it was founded in 1933," John Caple, chairman of the Haggen board and partner at Comvest, said in a statement. "We will continue our focus on sourcing and investing locally even with this exciting expansion."
However, "our" Safeway – yes,the one with the murals of Maple Leaf, Ravenna and Roosevelt in its underground parking garage – is neither on Haggen's store acquisition list nor  its map of stores to be converted to Haggen from either Safeway or Albertsons.
The closest potential new Haggen stores are the current Safeway in Shoreline (15332 Aurora Ave. N.) and the current Albertsons in Lake Forest Park (17171 Bothell Way N.E.).