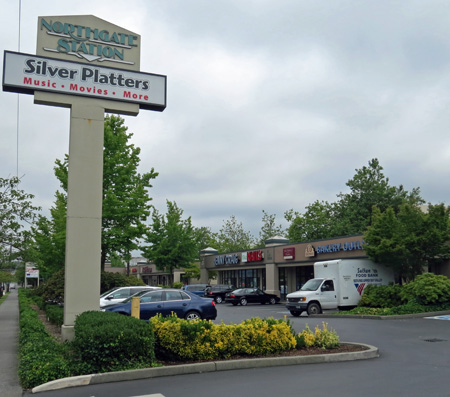 Sound Transit got back to us today, confirming it will acquire Northgate Station –  the strip mall that houses Silver Platters, SAS Shoes and several other stores.
The site will instead become a part of the link between the Maple Leaf Portal and the Northgate Light Rail station.
"As the station and guideway construction plans moved past 90% it became apparent that we would not be able to maintain reasonable access for the businesses for at least two years while we build the guideway through the area," emails Bruce Gray, public information officer for Sound Transit.
"Four of the large columns supporting the guideway will be on the property and as the designs progressed, it became clear that we can't put them in while maintaining access to the tenants."
The mall is immediately south of the Northgate Transit Center, and just east of First Avenue Northeast and Interstate 5.
Gray said that by now all the businesses in the mall should have been contacted.
Sound Transit will pay for all moving expenses and up to $50K in costs associated with reestablishing their businesses at a new location. Our people will also help the businesses find suitable new locations and work closely with them throughout the process.
In other light rail news, Sound Transit emailed on Thursday:
The first of two tunnel boring machines that will build the Northgate Link tunnels between the University of Washington Station and Northgate Station is having a good start. Today it will have travelled 500 feet since crews began mining south from the Maple Leaf Portal near NE 94th Street in early July. Crews expect the first TBM to reach Roosevelt Station in early 2015.
The light rail line here is set to begin operating in 2021.