Sharon emails:
I would like to spread the news of a block yard sale this Saturday, July 19. It will be on Northeast 89th Street between Fifth Avenue Northeast and Latona Avenue Northeast from 10 a.m. to 5 p.m. Please stop by!!
Also, several people have asked if we have news of the old Waldo Hospital property on 15th Avenue Northeast.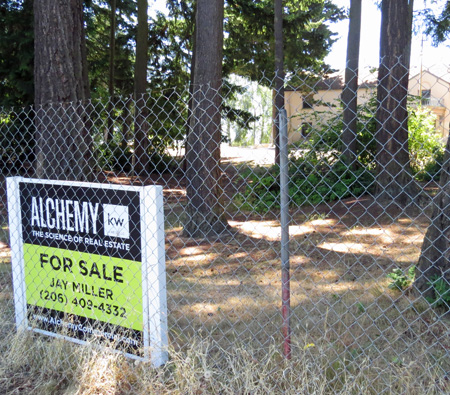 "Have you heard anything about the MMSC Day School property? There is a for sale sign on the property at 15th Avenue Northeast and Northeast 85th Street."
No, we are annoyed to say we haven't heard anything useful about the Menachem Mendal Seattle Cheder Day School, now apparently closed.
And we've looked around, too.
"Waldo Woods property for sale? I noticed a big for sale sign in front of the school/property on my way home today."
And, "haven't yet seen this in the Blog: the old Campfire building is for sale now. The Jewish school couldn't make a go of it and is totally gone. There is a big for sale sign on 15th.
"Now that whole big discussion opens up again? Bummer."
The big discussion concerns the fate of the property and the 80 mature Douglas fir trees there, dubbed "Waldo Woods" by the Maple Leaf Community Council, which spent four years trying to save them. The council and the Jewish school were honored by Seattle Audubon in 2010.
Originally Waldo Hospital, the property was long occupied by Camp Fire Puget Sound. There's a raft of background here.