Update 3:45 p.m.
We had packages stolen from our front porch on Eighth Avenue Northeast between Northeast 85th and 86th streets on Sunday.

Neighbors told us they saw two boxes on our front porch around 3 p.m. and by 7:30 p.m. when we returned home they were gone. We think it was a children's desk we ordered that required assembly. The boxes would have been quite heavy so it may have required two people. Just unbelievable that someone would have stolen such large boxes in the middle of a sunny Sunday afternoon!

If anyone saw anything suspicious we would love to hear about it so we can add it to the police report. Thx
Update 3 p.m. This just arrived: "I returned to my home on Northeast 75th Street and 15th Avenue Northeast at 5 p.m. 7-14-14 to find our front door smashed in. They took laptops iPads, jewelry and my 6 yo's piggy bank. Please alert neighbors to stay alert! Thanks."
————————————–
A neighbor emails this morning:
"Just wanted to give a heads-up to the neighborhood. We live on 15th Avenue Northeast and Northeast 95th Street and just had a prowler in our backyard attempting to move our window air conditioning unit and looking in our back windows.
"I was able to scare him off and he ran into a waiting car that went south on 15th.  The Seattle Police came and were great about getting information and having a patrol car out in the neighborhood although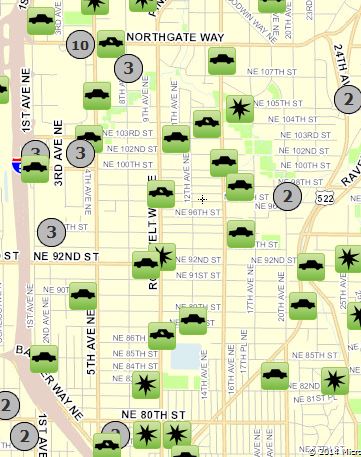 I am sure he is long gone."
He is described as a skinny, short, white male in his 40s with a scruffy gray beard and backwards baseball hat with a green brim.
A different email from the morning, this one  from Lisa:
I wonder if you could put this on the blog. We need our car back!

Our car was stolen a couple of weeks ago, out of the Thornton Place garage. I've gone up and down the streets in Maple Leaf looking for it, but could use more eyes on the ground. If anyone sees a two-door black Honda Civic with license plates 885YNL, please add a note here with the location, or call the Seattle Police.

Appreciate it – most stolen cars are found apparently, but we haven't found ours yet, and neither have the police.
The map at right shows stolen or prowled cars,  plus burglaries, since our last report in mid-June.  (The * ones are burglaries.)