We've got crime and stolen packages, feral cats and a found iPod – but first, the crows!
Anyone trekking to the north entrance to Maple Leaf Reservoir Park will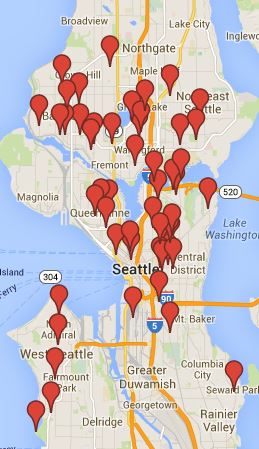 notice.
A pair of crows with a nest at 12th Avenue Northeast and Northeast 89th Street are ardently defending their young – to the point of dive-bombing passers by.
Our crows are actually a little late – most chicks have fledged by mid-June.
Our news partner The Seattle Times has mapped more than 50 such crow attacks in the area and created a map. That coverage is here.
In other news:
Art emails over the weekend:
This morning, in broad daylight, at about 8 a.m. (Saturday morning) someone tried to steal our car.

They easily got into the locked car and managed pick the lock on "the club" (the old one with a double-sided key)

They were unable to get the car started but took a few bags of stuff out of the trunk.

This was on Northeast 100th Street near 15th Avenue Northeast.

We reported it to the police.

The officer said the club was a good deterrent but not 100% effective.

I just wanted to let the neighborhood folks know to keep their eyes open especially since it was in broad daylight.
And Greg emailed last week:
On my way home today I saw an individual removing packages from a neighbors house on Northeast 82nd Street and Eighth Avenue Northeast. I followed them and got their license plate.

I decided to loop back to the home to see if the neighbor was home-the individuals had returned and were clearly interested in whether I was observing them.  Upon reporting it to SPD they informed me that (particular) car has a high number of "hits" when it comes to reports of suspicious activity in this and surrounding areas. But they have yet to apprehend them.
He described the car as a black Saturn VUE SUV, and the occupants as two Hispanic males and a white male with a shaved head "SPD says these crimes along with home invasions spike in the good weather so folks should keep a look out."
Meanwhile, Jessie reports a found iPod on Saturday. "We found a black iPod in front of our house on Northeast 96th Street between Eighth Avenue Northeast and Roosevelt Way Northeast. It belongs to someone named Nicholas but it is locked. We would like to find the owner; can you please post something on the blog and if they can unlock it they can have it back."
Finally, we have a neighbor, Sharon, with a plea for the Friends of Campus Cats Jumble Sale.
Friends of Campus Cats is a hairball of a nonprofit that advocates humane management of feral cats in Maple Leaf, UW campus and elsewhere. The jumble sale, which depends on donated goods, is our only fund-raiser. The sale is set for July 26, but the goods are needed now.
Sadly, their website doesn't seem active.
Needed are donated goods. We gratefully accept books, CDs, DVDs, knickknacks, collectibles, kitchenware, crafts/hobby supplies, small appliances and even smaller furniture, jewelry and the like. All proceeds go to help the cats. Come one, come all; even dog lovers are welcome!

Did I mention we need more stuff?! We will gladly pick up if you are unable to deliver. Please call or email to make arrangements.

Also needed are volunteers to help on the day of the sale. Please email or call for details.

Sharon Talbert

Friends of Campus Cats

206-442-2051 (vm)

friendsofcampuscats@gmail.com

Sale location same as last year: follow signs on Roosevelt Way Northeast on July 26 or watch our website. We open at 10 a.m.; no early birds, no whining.