Update: Seattle Public Utilities has now (mid-morning) issued a press release:
SPU Director Ray Hoffman said the utility has been working collaboratively with the reservoirs' designer, Denver-based MWH, to recover the costs of the retrofits. The rigorous seismic analysis was set in motion in March 2011 after MWH notified SPU of possible seismic deficiencies in their work.

"MWH has been working with us, voluntarily paying costs incurred and cooperating every step of the way — and we expect that to continue," said Hoffman. "When the dust settles on these projects, we believe we will still be at or below the original budget, and that utility rates will be unaffected by the retrofits."

Hoffman emphasized that without the retrofits — even in a monster quake — the reservoirs are in no danger of catastrophic failure, and they pose no risk to public safety. And he said SPU will work to minimize disruption of activities in the city parks that have been built atop the reservoirs.
———————————————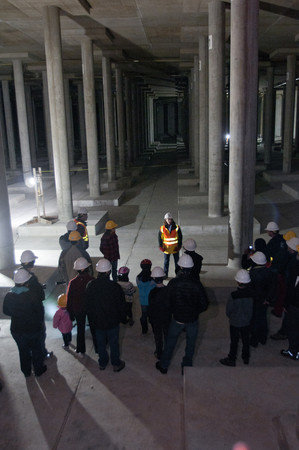 Inside the Maple Leaf reservoir before it was filled. Photo courtesy Dane Doerflinger Photography
The city and its contractors now believe that the four underground reservoirs that serve Seattle, including the one under Maple Leaf Reservoir Park, might fail in a catastrophic earthquake.
Our news partner The Seattle Times has the story here. Our earlier piece, saying Seattle Public Utilities was looking into the problem, is here.
From today's Times story:
In September, the city will begin the estimated $7.6 million process of retrofitting the West Seattle Reservoir, based on a series of high-tech simulations that found the 30 million-gallon water vault could suffer leaks substantial enough to empty it in days to weeks.

It's likely the city's three other underground reservoirs — Maple Leaf, Beacon Hill and Myrtle — will require similar retrofitting, and the price to strengthen all four could range from $25 million to $30 million, said Andy Ryan, spokesman for Seattle Public Utilities.

The utility began investigating the seismic deficiencies in March 2011, after the engineering company that designed the reservoirs, MWH, disclosed it had made an error in evaluating whether the structures would meet code using industry-standard calculations, which are based on aboveground reservoirs instead of underground ones, Ryan said.

One engineer: "It wouldn't be a catastrophic immediate rush of water, but you'd start to lose water. You wouldn't have any water left after a short period of time."