photo Marcus R. Donner
There's still time to order a Blast and yam fries at the Maple Leaf Grill before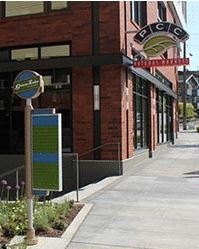 it closes for good Friday night.
Take a souvenir photo, too. (Sorry, the T-shirts are all gone.)
In the good news department, the new Greenlake Village PCC store opens in just two weeks, at 9 a.m. on June 4th.
It's just down Fifth Avenue Northeast, at the site of the old dairy plant. Details are here.