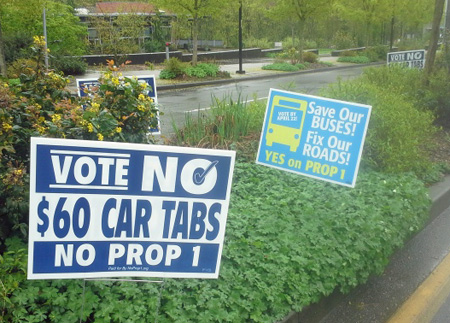 On Fifth Avenue Northeast across from the Northgate branch library.
Update: A newly released Elway Poll finds that 74 percent of voters statewide surveyed last week said they supported higher local taxes for roads and 60 percent said they supported higher taxes for transit.
Note these are statewide findings, not just in King County where Prop. 1 is on the ballot.
It also seems to contradict a similar poll a year ago.
——————————————————
Ballots for or against the tax hike to fund bus service and other transportation pieces must be postmarked by midnight next Tuesday, April 22.
Earlier this week our news partner The Seattle Times ran an explainer outlining the pros and cons of the proposal.
Among other things, it delves into the questions over bus drivers' pay.
The proposal calls for a $60 car-tab fee and a tenth-of-a-cent sales-tax increase for roads and buses.
Voters are being asked to approve Proposition 1, which calls for a sales-tax boost of 0.1 percent, or a dime per $100 purchase; plus a yearly $60 car-tab fee, to replace a $20 fee that expires this summer. Metro would get 60 percent, while the remaining 40 percent would be split among city and county street departments.
Crosscut also has two quite different takes on the election. Conservative commentator and one-time gubernatorial candidate John Carlson argues against it here. Frustrated residents of First Hill – including Tom Gibbs, Metro's first director – argue the opposite here.
It's worth noting that the Seattle City Council is now considering an election later this year that would double the city's parks levy, raising the annual cost for the owner of a $400,000 home from $76 to $168.
It would both maintain existing parks and add new ones, as well as fund new programs.
Here's a Crosscut piece on parks published April 18th.