The Maple Leaf Grill – a neighborhood institution with Mrs. Peel on the north wall and a huge reclining nude on the south – this morning announced it will close May 23.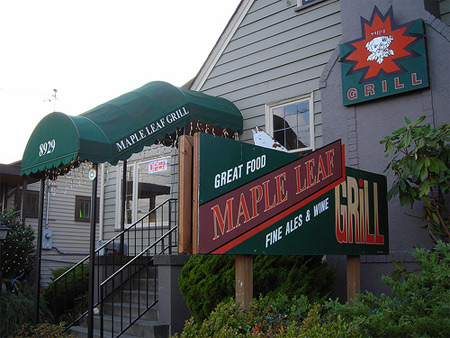 From the Leaf's Facebook page:
It is with great sadness that I must officially announce the impending closure of the Maple Leaf Grill. After 25 years of serving the Maple Leaf community, our last day of service with be May 23rd. I don't know what else to say except that is has been my pleasure to serve you for nearly 1/2 of those years and I will miss seeing all of your beautiful faces.

You still have about seven weeks to come get your grub on, enjoy the best burger in the city with a pint of your favorite local brew, scarf down a plate of stroganoff or carbonara, or sup lightly on Pat's pan-seared trout. I do hope you'll all stop in to say goodbye.
This leaves Maple Leaf with one fewer local restaurant – neighbors will remember LC's Kitchen closing in the spring of 2011.
From The Stranger:
The kind of bar everyone wishes his or her neighborhood had, the Maple Leaf Grill is a cozy, worn-in den, perfect for folks in the area to walk to and grab a burger and a beer—with their kids or without. A giant horseshoe-shaped bar dominates the main room, making a good spot for solo diners who want some people-watching with their dinner.
From the Leaf's own webpage:
The Maple Leaf Grill has been a neighborhood favorite since it opened its doors in the charming Maple Leaf area of Seattle in 1989. In 1999, the Grill relocated up the street to the light grey house that sits on the corner of 90th and Roosevelt Way NE. The house was built in the 1920's and is on the highest point in north Seattle, with views of Mount Rainier and the Olympic mountains. In January 2004, Pat Paull, a graduate of the Culinary Institute of America, bought the Maple Leaf Grill becoming the executive chef/owner. Pat Paull promised the loyal neighborhood that he would "bring the Grill back," which is what he's done.
From the Leaf's Facebook page.