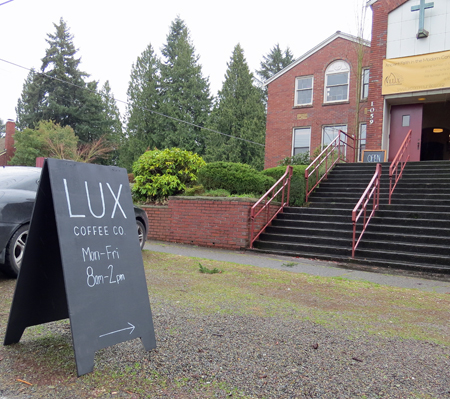 What may be Maple Leaf's most northern coffee shop is open for business in the former Maple Leaf Evangelical Church.
Laura emailed us Wednesday: "I enjoyed a coffee here today and told the fellow I spoke with named Trent, that I would send him information about the ML blog, so they can get connected to the community. He said they opened three weeks ago."
And Trent emailed today: "I am sending you a message about a new coffee shop that opened a few weeks ago on Northeast 96th Street and 12th Avenue Northeast, called "LUX Coffee Co."
LUX Coffee is operated out of the old church, now leased by LUX Communities. We wrote about LUX earlier here and here.
LUX Coffee has a Facebook page and a website. It's open Monday through Friday from 8 a.m. to 2 p.m.
Earlier this week Micah emailed:
I am a Maple Leaf Resident and a pastor of a local church, Lux Communities (1059 N.E. 96th St.). Some time after 2 p.m. and before this (Monday)  morning at 7 a.m. our "Community Breakfast" and "Lux Coffee Co." signs were stolen. They are A-board style signs. We have reported it to the city.

Both the free breakfast and the coffee company are ways that we are trying to serve our community. We are wondering if anyone from the community saw anything or found the signs etc…?