An email this afternoon from the Seattle FBI offers a reward for the "cyborg bandit" who robbed the Sterling Northgate branch bank last week and is believed to have hit at least five other banks in six cities in the past six months.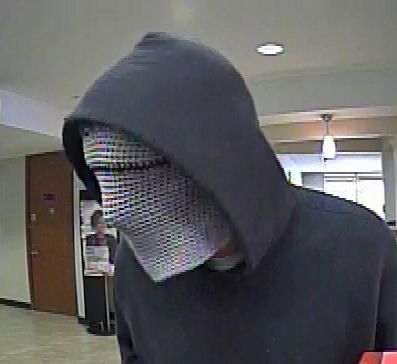 At Northgate, 10 0fficers rushed to a bank in the 800 block of Northeast Northgate Way at about 4:30 p.m. last Wednesday, Dec. 4, responding to a dispatch of a "bank robbery in progress."
The robber was gone, according to a police report, but bank employees said a man entered the bank wearing a hood and a tight-fitting "homemade" mask and appeared to be holding a gun in his pocket.
"Give me all your money," he demanded, and then: "Give me all your big bills. I know you have more."
The employee said "I'm sorry, that's all I have," and the robber immediately left, going out the door and turning west on Northgate toward Fifth Avenue Northeast.
The photo above is from the robbery of a Key Bank in Bellevue. The Seattle Safe Streets Task Force, which includes members from the FBI, the Bellevue Police Department, the Auburn Police Department, the King County Sheriff's Office, and the Seattle Police Department, says the Northgate robbery is the latest in a string:
• September 24, 2013 (Tue) – Key Bank, Bellevue, WA

• October 2, 2013 (Wed) – Banner Bank, Woodinville, WA

• October 18, 2013 (Fri) – US, Shoreline, WA

• October 23, 2013 (Wed) – Whidbey Island Bank, Bothell, WA

• November 30, 2013 (Sat) – Wells Fargo Totem Lake, Kirkland, WA

• December 4, 2013 (Wed) – Sterling Bank Northgate, Seattle, WA
The subject may be a white male, between 5-foot-9 and 6 feet tall, of thin build. During the robberies, he's covered his face with a distinctive cloth and worn the hood of his sweatshirt over his head. He has also worn clear, latex gloves. Please see the attached flier and photos for images that may help your audience identify this robber.
Wells Fargo is offering a reward of up to $5,000 for information leading to the identification and arrest of the bank robber.
Anyone with information that can help identify this individual is asked to call Crime Stoppers at 1-800-222-TIPS (8477). Callers to Crime Stoppers may remain anonymous and are eligible to receive a cash reward of up to $1000.00 if the information given leads to an arrest and charge of the person(s) involved. Callers may also reach task force officers Detective Mike Mellis at 206-263-2086 and Detective Steve Hoover at 425-452-7868.