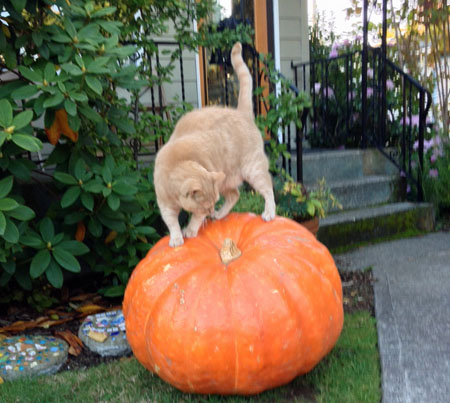 The cats at Seattle Creative Kids Preschool are counting on winning the 2013 biggest pumpkin in Maple Leaf contest. The actual weight of the pumpkin won't be revealed until today.
Tonight – when witches and ghouls prowl – is now forecast to be dry. With temperatures in the 50s.
WEAK FRONT MOVING THROUGH THE AREA THIS MORNING WITH MOST OF WHAT LITTLE PRECIPITATION THERE IS ASSOCIATED WITH THE FRONT OVER THE SOUTHWEST INTERIOR.  UPPER LEVEL RIDGE STARTING TO BUILD IN LATER IN THE DAY WILL BRING ABOUT AN END TO THE SHOWER ACTIVITY BY EARLY EVENING FOR MOST AREAS.
Maple Leaf usually has hundreds of kids – and dogs – on the prowl for treats. See you tonight!