There are clearly Maple Leaf families both in favor and opposed to the proposed changes to the Seattle School District boundaries, according to the comments in our recent post.
Those opposed are making their voices heard not only by responding to the district's survey, which is due today at 6 p.m., but also by asking neighbors to sign a "Maple Leaf Letter to the School Board" by 4 p.m. today that supporters have been distributing around the neighborhood and via the Facebook page Maple Leaf Parents.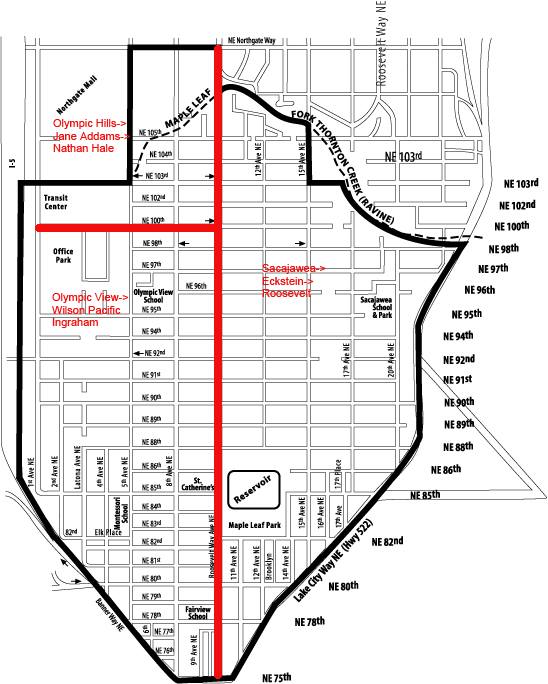 From the Maple Leaf Parents Facebook page.
The text reads:
Maple Leaf is a solid Northeast Seattle neighborhood with a strong sense of community and neighborhood pride. Our community has very natural geographical boundaries including a western edge at I-5, a northern boundary at Northgate Way, and an eastern boundary at Lake City Way.

To realize the potential of the neighborhood schools approach, Seattle Public Schools should look for opportunities to preserve and nurture neighborhood communities. Kids should be able to go to school in the neighborhoods where they shop and play and otherwise congregate – that is, in the community that they and their parents consider home. The community where they walk to school, volunteer at the library, and help at the senior home.

Please reconsider your proposal to send Maple Leaf children to three separate elementary schools, three separate middle schools, and (likely) three separate high schools including schools on both sides of I5. We understand the pressures the school districts is facing and want to work with you to find a solution that makes sense.
The Maple Leaf Community Council Executive Board also has weighed in with an email and post to its Facebook page stating that it because of the division on this issue, it "is not in the position to take a formal stance on behalf of the neighborhood." The post continues:
Please know that however this boundary issue may play out, the MLCC remains committed to keeping our children safe en route to/from schools, and will continue our efforts to secure pedestrian safety improvements. We are aware some of the proposed changes affect pedestrian safety and we will be watching what SPS decides, hopefully with the input of many Maple Leaf neighbors like yourself, and advocate accordingly with City Hall for related transportation improvements.
Be sure to weigh in by 6 p.m. today to the district's survey if you want your voice heard!