Periodically – "or whenever news breaks" – we update readers on crimes that affect the neighborhood.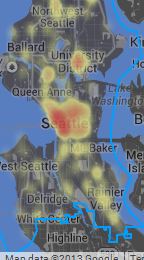 Periodically, neighbors complain about reading crime news.
Periodically, somebody says we have, comparatively, a lot of crime in Maple Leaf.
We don't think so, and have spoken to it repeatedly, most directly a couple of years ago.
Now a couple of outside reports back up that belief.
This month Walk Score Seattle crunched the numbers of crimes committed per capita here in t
wo categories – violent crime and crimes against property (burglaries, stolen or prowled cars and the like).
Their citywide maps are posted at right. Take a look. Violent crime is on top; maps show crime per 1,000 residents.
To play with the originals, go to the "safety" section  of  the Walk Score site.
The most common crime victims in Maple Leaf – and Seattle in general – are cars. Most are "prowled" – broken into. A lot are stolen (particularly around the Northgate Transit Center). But we're nowhere near the top.
A few weeks ago the National Insurance Crime Bureau published statistics on sto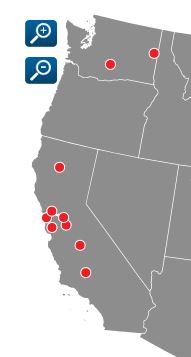 len cars. It basically said they are up, nationally, after eight years of declines.
Interestingly, of the top 10 cities for stolen cars nationwide, eight are in California. (The leader, per capita, is Modesto.)
The other two were in Washington – Yakima and Spokane. The Seattle metro area is number 17 on the list, after places like Detroit and Oklahoma City.