Over the past couple of months we've heard from at least a half-dozen readers with the same question Alex emailed on Monday:
I'm not sure if this is on your radar, but a fair portion of Maple Leaf is on the neighborhood coverage map for the Gigabit Seattle roll out.  Our house (on Northeast 94th Street) falls in the coverage zone and I'm excited about the possibility of super fast connectivity.  Just thought I'd pass it along for other folks in the area.
Last month Ann wrote:
The border that they are defining for the Northgate area includes the northwest portion of Maple Leaf, down to Northeast 91st Street.  I wrote to them today to see how hard and fast that boundary is and they said that if there is a lot of interest and demand that they may expand the boundary to include more of Maple Leaf.

I was wondering if you could post some information about this project on the Maple Leaf Life?  The more people that know about it and express interest by signing up for more information on the Gigabit Seattle website means that the service could be available in Maple Leaf soon.
Several other readers have also hoped they could leverage interest to expand the planned area, which is defined in the map above.
Here's what we know: Broadband internet is really, really fast. Gigabit Seattle, as the name implies, promises "speeds that are 1000 times faster than the typical high-speed connection."
Here's what we don't know, and have had no luck finding out: What will it cost?
For a service that's supposed to go live in a half-year, you'd think there'd be an answer to that. Here's what their website says:
Our rates are yet to be finalized, but households and businesses should expect extremely competitive rates.The network is one of digital inclusion, requiring pricing that is not discretionary based on income level – for households or businesses.
Gigabit Seattle will also offer cost effective access through its wireless neighborhood cloud network where available.
Emails to both the Seattle office and Gigabit Squared in Washington, D.C. have gone unreturned.
Some background. After the plan to provide broadband access citywide died last year, Seattle in December announced a partnership with broadband developer Gigabit and the University of Washington to use existing but unused  fiber-optic cable to bring blazing Internet speed to several neighborhoods that actually had the cable.
In February the initial dozen neighborhoods participating in the demonstration project were increased to 14. On its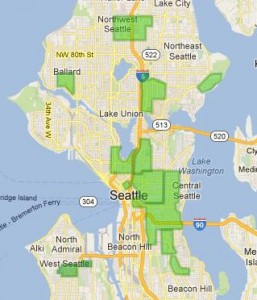 website, Gigabit Seattle says that will bring service to 100,000 citizens and businesses. There is the possibility of some wireless access as well.
Our sister site, My Ballard, reported: "Gigabit Squared has secured the funding needed to begin their detailed engineering plans. They plan to release their updated business plan by April. This plan will include the cost of laying the fiber, the subsequent price customers will pay for the service and the estimated date that the fiber can begin to be used."
So stay tuned.
If you're interested in registering for the service, click here.