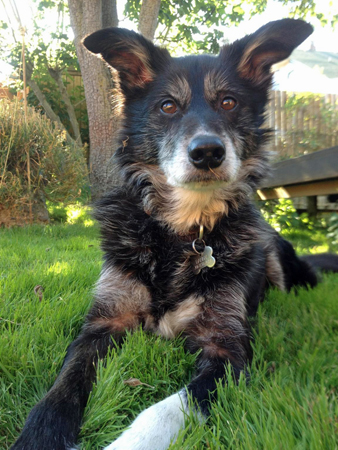 Update 7 p.m.:
"Danny has been found!
"A fellow reader called me up and said she saw an ad on Craigslist that seemed to match the picture on your story this morning…Danny has now been found and is back home with his owner on Beacon Hill!. I cannot thank you enough for what you do for the neighborhood with this blog. I may never have found him if it had not been for Maple Leaf Life. Thanks again and I look forward to my daily dose of neighborhood news."
Zach
—————————-
Zach emails early this morning: "I was hoping I could request some help finding my friend's dog."
Danny, a 12-year-old Border Collie, slipped his collar on Roosevelt Avenue Northeast between Northeast 97th and 98th streets at about 4:15 this morning.
"Danny is a very friendly old dog who loves people and will usually come when called by name with wide open arms (or treats). Until about two years ago, Danny's owner used to live in the neighborhood on Roosevelt between 91st and 92nd so he may have wandered to/around that area too.
"Any information or sightings, please call or text Josh @ 509-969-6237 anytime day or night."