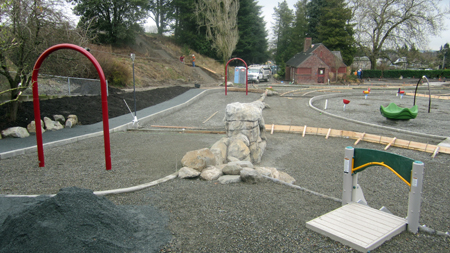 The playground this morning. The zip line runs between the two red arches.
In a couple of weeks it will be time to haul out the work gloves and come help build parts of the new Maple Leaf playground.
Or call it by its new name: the Maple Leaf Family Terrace. Complete with a  zip line!
The city is currently working on various pieces of play equipment at the terrace, but neighbors will have the opportunity to help construct two structures (seen at right) and put plants in the ground.
No tools are required, and local businesses will be providing lunch, but bring a beverage.
The dates are Saturday, April 6th, with both morning and afternoon signups, and Sunday April 7th if work remains to be done.
For more information visit the  Maple Leaf Community Council's "build" page. And the online signup to volunteer is here.
The last time we looked the new Maple Leaf Reservoir Park – and Family Terrace – was to open this fall. (Update: Family Terrace to open for summer! See Donna's comment, below. Donna chairs the community council committee on the park.)