Before you head out the door in search of a few of Northgate's favorite ethnic restaurants, you should take stock of what's closed as plans develop for a seven-story building just east of the 24 Hour Fitness at the corner of Eighth Avenue Northeast and Northgate Way.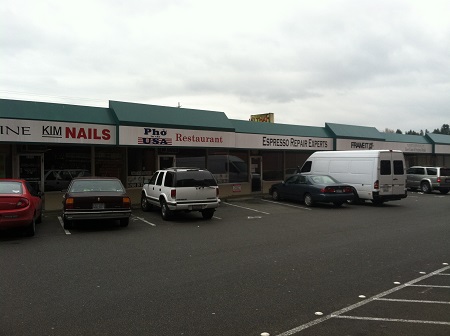 Of the businesses shown above, we know that Espresso Repair Experts has moved to Maple Leaf at 9522 Roosevelt Way N.E., Northgate Rare Coins & Precious Metals relocated to 11319 Pinehurst Way N.E., and Frame It also moved nearby to what is apparently now called the BevMo! Plaza at 10712 Fifth Ave. N.E. Masala of India Cuisine is still open for now, and isn't moving far with a sign already up underneath the 24 Hour Fitness next door.
As for Kim Nails and Pho in the USA, the buildings are simply empty and vacant.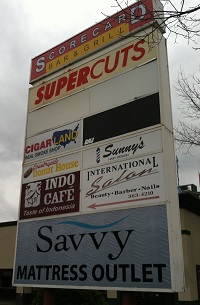 The situation is even more grim on the eastern half of the development. Although a sign at Indo Cafe indicates its moved to 13754 Aurora Ave. N.E., and that the Sprint has moved next to Masala, there are no moving signs at Scorecard Bar & Grill (which actually closed its doors in August), Sunny's Hair Design, Cigar Land, International Salon, Savvy Mattress Outlet or Countryside Donut House, which we should note had boasted the No. 1 spot on our restaurants list.
As of Sunday, Supercuts at 543 N.E. Northgate Way was the only business still open, although the year-old BECU branch and SleepCountry in a separate building just to the north appear to be staying.
And what did all of these businesses close or move for? A seven-story building with 22,967-square-feet of commercial space, 262 residential units and 270 underground parking spaces.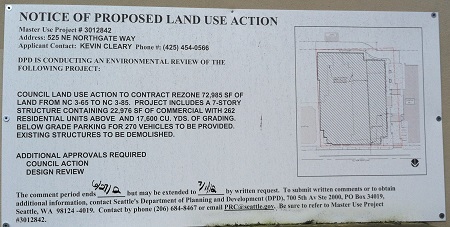 As you can see above, if you don't like it, it's too late to say anything because the comment period ended nearly a year ago.
But you'll have other opportunities as there are likely even more developments planned since the Gene Juarez Academy just south of that retail area also has relocated to 6007 A – 244th St. S.W. in Mountlake Terrace.