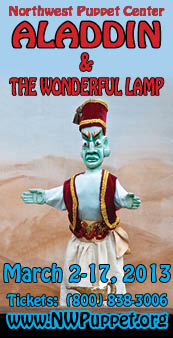 "Aladdin and the Wonderful Lamp" begins a three-weekend run today at Northwest Puppet Center, 9123 15th Ave. N.E.
Carter Family Puppets is bringing its own original production of this Middle Eastern folk tale from "Arabian Nights" to the stage with "hand-carved puppets, beautiful scenery, special effects and plenty of laughs," according to the Puppet Center.
Showtimes are at 1 and 3 p.m. Saturdays and Sundays from March 2-17. Tickets are available through Brown Paper Tickets or at the box office 30 minutes before showtime; cost is $10.50 for adults, $8.50 for children up to age 16, and $9 for seniors 65 and older.