One-way streets abound throughout Maple Leaf in an effort to keep non-locals from jetting through our neighborhoods to and from Northgate Mall and our various arterials. But one of those one-way streets, Northeast 105th,  has been unique in that it allowed cars to travel both directions despite being large enough for only one car at a time.
Looks like those days are over. This weekend, we noticed that there's now a "Do Not Enter" sign at the corner of 105th and Eighth Avenue Northeast for cars traveling west.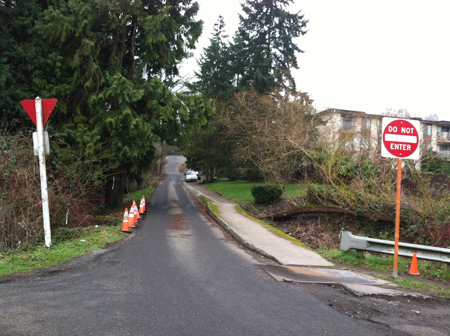 In the minute or so that we were in the area, we also saw two cars drive right past the Do Not Enter Sign and up the road in the wrong direction. Perhaps they didn't see the sign, or perhaps they just didn't know where else to turn if they've been traveling up that road for years.
What are your thoughts on the new truly one-way version of 105th? Did you even notice it?