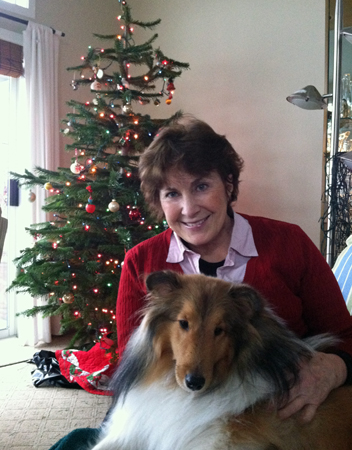 Bentley, who ran away from his Maple Leaf home on Dec. 8th and apparently lived in Thornton Creek for 13 days, was back home for Christmas, David emails overnight.
One Maple Leaf Life reader spotted him on Dec. 10th, near the Les Schwab tire store on Lake City Way, someone else saw him on Dec. 15th near Thornton Creek, and David saw Bentley on Dec. 19th. (Bentley belongs to his mother, Dorie, pictured above.)
"He's running from everyone he sees, so we've put a safe, humane trap close to where he's been staying," David wrote then. "Hopefully, we'll get him back tonight or tomorrow."
It worked two days later.
We were finally able to locate his hideout, under the 15th Avenue Northeast bridge. Since he would run at the first sight of people, we placed a safe trap cage close to where he was sighted.

Though we had placed food inside, Bentley only approached the trap once we surrounded it with my mother's clothes. Once he picked up her scent, he wouldn't leave the vicinity! He has always been very devoted to her.

Sometime after midnight, early Friday morning, Bentley entered the cage and stepped on the trap. The door closed behind him, and several hours later, after 13 days on the run, he was reunited with my mom, his mom.
We are overjoyed to have our little guy home, and we are so thankful to everyone in the neighborhood who took the time to help us, especially Jeff and Brad who first saw him by the creek.