We had a slew of comments last month when the city turned on school zone speeding cameras outside Olympic View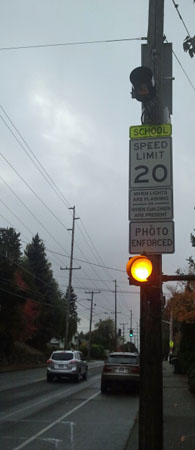 Elementary School.
So far only warning tickets have been sent.
But today our news partner The Seattle Times is reporting that real tickets will begin Monday, Nov. 26. To the tune of $189 a pop.
Starting Monday, Nov. 26, $189 tickets will be automatically mailed to registered owners of vehicles caught speeding past cameras installed in four Seattle school zones. Those zones are near Broadview-Thomson K-8 School, Thurgood Marshall Elementary, Olympic View Elementary and Gatewood Elementary.
The local cameras are on Fifth Avenue Northeast, just west of the school at 504 N.E. 95th St. The city says they will only photograph speeders' license plates when warning lights are flashing.
Read the full Times story here.