Since Flying Squirrel Pizza Co. opened up in Maple Leaf a year ago, its patrons have been asking when they'll start delivering pizzas. But like their other locations in Seward Park and Ballard, delivery just wasn't an option. Until now. And only in Maple Leaf.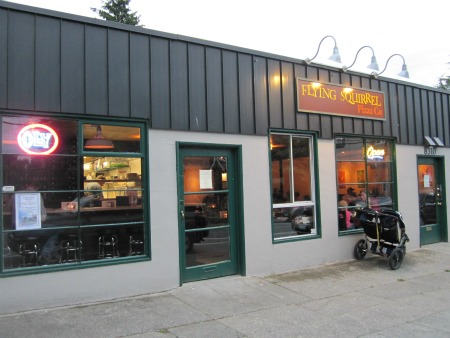 Starting tonight, the Flying Squirrel website started accepting orders for delivery for the 9,000 households that are within about a 1-mile radius of the Maple Leaf location at 8310 Fifth Ave. N.E..
"We've never done delivery so we wanted to focus on a small area to make sure we could do it," said co-owner Brian Vescovi. The orders can only be placed online, where you must pay by credit card in advance to get your pizza delivered.
If the sudden change has taken you surprise, don't feel like you missed out on some big announcement. At the end of Day 1, a total of zero orders had been placed on the new system, which was just how they liked it for their "soft opening" that was only announced on Facebook, Vescovi said.
Once they're sure the system is working properly, he said they plan to send out postcards in the delivery zone announcing the change, along with a $5 off coupon.
Roughly, the delivery zone is the same as the Maple Leaf neighborhood: Lake City to the east, Northgate Way to the north, Interstate 5 to the west, then south barely into the Green Lake neighborhood.
"We want to make sure we do this the best that we can do," said co-owner Bill Coury.
If the delivery "test" in Maple Leaf is successful, Vescovi said they hope to add delivery to their other locations as well.