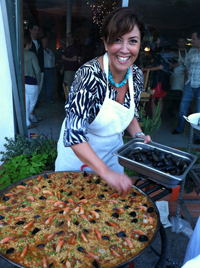 You've still got a few chances to check out The Wandering Cafe, 7533 Lake City Way, for its Thursday night Chef's Dinners, which are continuing as long as the harvest season cooperates with owner Kristine Pottle, pictured.
The entire Maple Leaf Life staff, along with spouses and friends, coincidentally showed up at last night's Paella Dinner, so we'll let your eyes decide if you want to reserve a spot at the table. Future dinners include the Singapore Crab Fest and Sunday Gravy, which you can learn more about by emailing Pottle at kristine@thewanderingcafe.com to join The Wandering Cafe email list.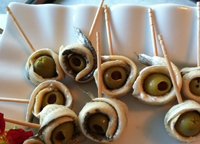 The evening started with sangria and Spanish hors d'oeuvres including manchego cheese, figs, cured meats, flatbread, and the anchovies and olives pictured at left, which the nearly 20 guests munched while watching Kristine add ingredient after ingredient to the paella she cooked right outside the door.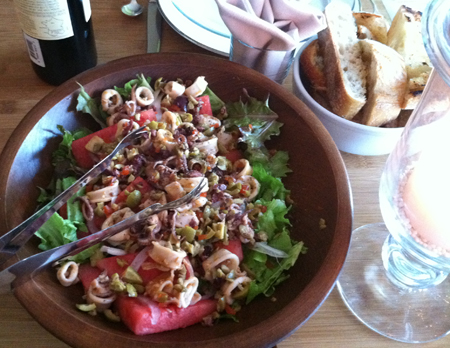 As soon as the staff placed the above salad of seared squid, watermelon and olives on the table, guests began streaming in to dig into the family-style dinner.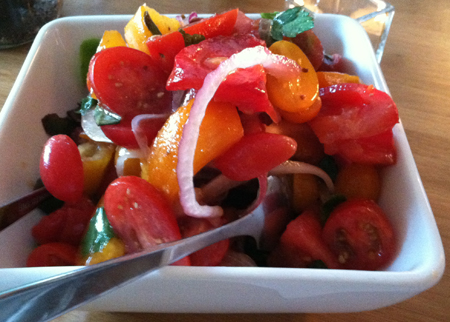 We tried not to fill up too much on first course, which also included the above tomato, parsley and basil salad with a sherry vinaigrette.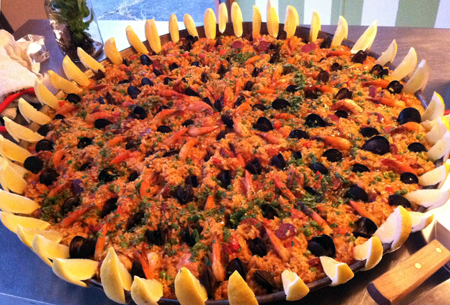 But in the end, it was all about the paella!