Have you made your opinion known about the addition of bike lanes/elimination of parking on Roosevelt Way Northeast?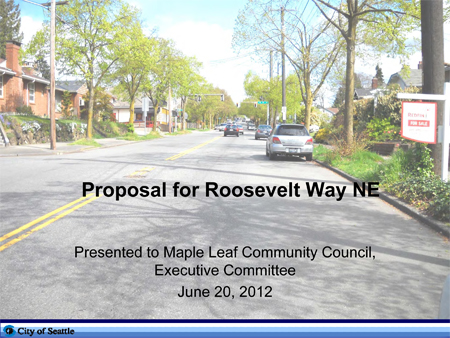 Presentation from Seattle Department of Transportation including comments from the Maple Leaf Community Council Executive Board.
A second open house is planned from 7-8:30 p.m. Tuesday, Aug. 28, at the Northgate Community Center, 10510 Fifth Ave. N.E., giving you one more opportunity to learn more about the current plans by the Seattle Department of Transportation and lodge your support/complaint of the proposal.
Summary of proposed changes from the news release:
On-street parking would be restricted all day ("No parking anytime") on the west side of Roosevelt Way NE from NE 75th Street to NE 85th Street
13 parking spaces would be restricted ("No parking anytime") on the east side of Roosevelt Way NE near NE 75th Street and NE 80th Street to improve traffic signal operations
71 parking spaces would be retained on the east side of Roosevelt (which is more than enough to accommodate the peak demand for on-street parking).
A dedicated bicycle lane would be added in the uphill (northbound) direction so that slower moving people on bicycles do not hold up traffic.
Shared lane markings (sharrows) would be installed in the downhill (southbound) direction
The new parking lane on the east side of the street would be wider than the current parking lanes
The new bicycle lane would also serve as a buffer between parked cars and cars traveling on the street
Here are a few issues the Maple Leaf Community Council has with the current proposal:
Homeowners on the west side of Roosevelt need safer pedestrian pathways across Roosevelt now that they'll have to park across the street from their homes. We also don't know how the new park will increase parking needs. It's likely, especially on heavy use days, there will be increased foot traffic across Roosevelt to/from the park. Access to the park on its west side will no longer just be concentrated there at NE 83rd. There will be new access points farther north for those park patrons looking to access the new portion of the park on the reservoir lid.

As most of us know, the lack of painted crosswalks in the area creates a dangerous situation. Ironically, having additional access points to the west side of our park will make it more difficult to get crosswalks under SDOT's measuring system. We'll have more pedestrian traffic, but it will be diffused across a wider area. Our hope is we can get SDOT to look beyond their current regimented system for calculating whether crosswalks are "allowed" and get painted crosswalks at each park entrance point in *advance* of the park's opening.
If you can't make Tuesday's meeting but still have comments to make, email them to walkandbike@seattle.gov or call 206-684-7583.