UPDATE: Even more noteworthy for many Maple Leaf residents is that COA just informed us that they had a break-in overnight: Photos.
COA Mexican Eatery & Tequileria has been tweeting about many changes at the year-old Maple Leaf restaurant at 7919 Roosevelt Way N.E., which recently hired a new head chef and revamped its menu.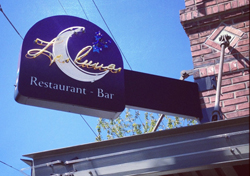 Last month, owner Edgar Carreon announced a merger with Queen Anne's La Luna that he tells us essentially makes the newer location "an extension of COA."
According to an April post from our news partners at Queen Anne View, La Luna had also been only a year old when it sought a new beginning:
A reader stumbled across an ad on Craigslist, seeking a buyer for "everything… even the name and menu." La Luna opened on April 15, 2011, in what was previously Flow Lounge.
Carreon tells us COA patrons are unlikely to be impacted by the change, but he has big plans for La Luna:

La Luna's main challenge over the past year has been their story. What it represents and what exactly it intends to offer its customers. That will be the biggest change, they will find that La Luna will have an identity and it will show through color, tequila, fresh mexican inspired food intended to be paired with Tequila. It's going to be like going to a "nice" / "sophisticated" restaurant in mexico with a take on "local".
In other Twitter news, COA was also suggested by several readers of a Seattle Eater post as a contestant for chef Gordon Ramsey's "Kitchen Nightmares" reality show. COA's humble Twitter response:
@EaterSeattle as hard as it is to know, we would love any help we can get. We want to be successful. #kitchennightmares