Did you get a chance at Wednesday's Maple Leaf Summer Ice Cream Social to check out the diorama of the new Maple Leaf Reservoir Park, where hopefully we'll be able to celebrate the next Summer Social?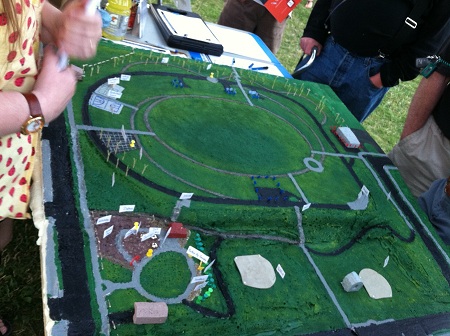 Donna Hartmann-Miller, a member of the Maple Leaf Community Council's executive board and chair of the Friends for a Greater Maple Leaf Park committee, spent the entire social showing off the model of what the park will look like now that the reservoir lid is complete. She writes on our Facebook page:
Wasn't it great? I love the social, although my throat hurts. Such a good time.
Recently, she also updated the community via the council's quarterly newsletter. Highlights of the new park include:
a system of pathways weaving through plantings and trees (including two staircases connecting the upper and lower levels of the park)
a viewpoint highlighting the Mount Rainier/Lake Washington vista and featuring an art piece that celebrates the two sources of water in our reservoir
a series of rain gardens
a shelter and gathering plaza
a sports court area, including pickleball court, a hitting wall, and basketball hoops
She notes that there may still be some fundraising necessary in order to secure grants for future construction, and that those requests will be sent out via the email list that you can sign up for on the Community Council's website.
For any other questions or comments, email reservoirpark@mapleleafcommunity.org. To see photos and to learn more about the park design, visit the Council's park website.