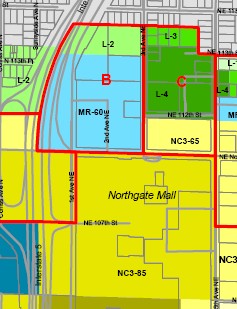 Update July 7: The Seattle Times now has a new story here.
A tentative compromise was announced this afternoon to keep dozens of affordable housing units when the Northgate Apartments are redeveloped.
The issue has repeatedly made news. We wrote about it last week here and earlier here. The Seattle Times has coverage here.
The Northgate Apartments are 207 units just north of Northgate Mall and east of Interstate 5 that currently rent at prices that fit the definition of "affordable." They are shown in blue on the map at right.
Their redevelopment could at least triple the number of apartments on the site, convenient to the transit center and future Northgate light rail station. But Seattle ordinances wouldn't necessarily require any of the new units to be affordable.
Earlier appeals of the redevelopment were thrown out by the city, but the property owners nonetheless agreed to mediation. The agreement announced today would preserve at least 66 units of low-income housing, almost certainly on site. It was negotiated in part by David Miller, president of the Maple Leaf Community Council.
There is a joint press release on the agreement here with details. In it, Miller commends the property owners, saying the council "would like to thank all of the participants in this mediation, but particularly the Mullally family. They've been excellent community members, ensuring the units currently on the site are well maintained and affordable. It was clear from our very first day across the table this was a property owner interested in doing the right thing."
The agreement still must be approved by the city Hearing Examiner and the City Council.