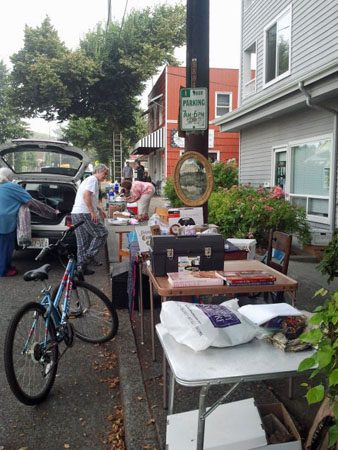 As the warm days of summer near, the questions grow about the Maple Leaf Garage Sale. But until recently we didn't have any answers.
Lucky for us, new neighbors Eagles Mother Aerie One did some investigating on their own, and discovered that the previous organizers of the neighborhood-wide sale were ready to pass the torch. And luckily for the neighborhood, the Eagles are ready to take on the project.
From 8 a.m. to 4 p.m. Saturday, Aug. 11, the Eagles, located at 8201 Lake City Way N.E., will be the site of a garage sale that Aerie President Dan Kerege says he hopes will be just part of a much larger neighborhood-wide sale.
Interested? Email us at tips@mapleleaflife.com and we'll get you on the list of participating Maple Leaf residences.
Or, for members of the community who don't want to have a garage sale on their own space, the Eagles is accepting donations for its sale (but no large furniture) or you can rent a table there for $15. All unsold items must be removed at the end of the day. For more information, contact Faye at 206-762-5125.
It's going to be a busy weekend in Maple Leaf, with the return of the Maple Leaf Art Walk the evening before from 6-9 p.m. Friday, Aug. 10. Maple Leaf for Life indeed!