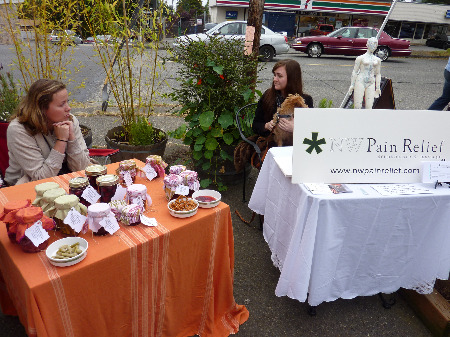 If you've been missing the neighborhood sale that took place in summer 2010 at Blue Saucer, 9127 Roosevelt Way N.E., owner Billie Bryan is brewing up a new idea that nixes the garage sale items and instead features many of the unique handmade items offered at her earlier events. She tells us about the Aug. 19 "Pop-Up Open Market":
I'm looking for lots of great crafts, collectibles and "junque", much like the vintage sales and shabby chic markets and boutiques around the state such as "Ruffles & Rust" in Monroe, the Groovy Girlfriends Vintage Market in Lake City, and with a twist of perhaps Baked Goods, lots of jewelry and maybe some garden stuff and possibly early Holiday items.
It's a new idea in a neighborhood that already has the an annual community-wide garage sale (which we still don't have a 2012 date for), and is the original home of the Bumps & Babies Fair. But that doesn't mean used items are out of running. Bryan adds that she hopes to see plenty of "stuff like cowboy boots and leather belts, vintage kitchen wares, linens, fabrics, aprons … "
Sound like your kind of sale? Bryan is asking vendors to sign up for the Open Market at Blue Saucer. If you sign up, let us know what you'll be selling so we can start tallying up a list for readers!