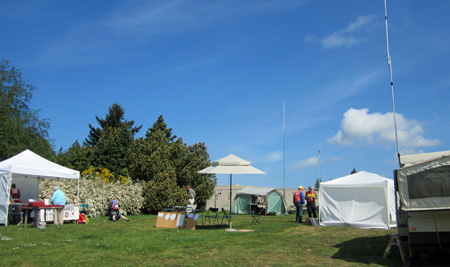 Update No.2: Theresa, the Hub captain and Red Cross representative at Saturday's drill, has posted photos here.
Update 5/20: Here's a report from the field.
About 35 people participated in the Maple Leaf drill, including nine on the radio team. John Parnell, coordinator, reports:
We were able to contact all parts of the Maple Leaf area, although we a few coverage problems in the spot by the freeway and Thornton Creek. We had several folks drive around and call us from as far away as Green Lake and Shoreline. We also relayed all the transmissions from Wedgwood Hub to the Emergency Operating Center. We were assigned to the role of NE Coordinating Hub.

We DID get a high quality group that did show up: nurses, hams, radio technicians even a few firefighters. For the next drill, we need to start earlier and approach more organizations, including churches, fraternal groups as well as the Maple Leaf Community Council.
Want to know more? Email k7hv@arrl.net or emergencyprep@mapleleafcommunity.org
—————————————-
A small forest of antennas has sprung up in the northeast corner of Maple Leaf Reservoir Park.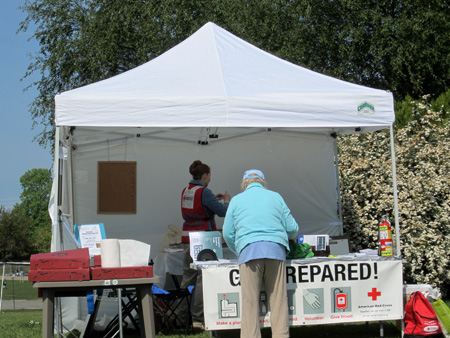 It's the emergency communications drill, running from now until noon.
The scenario: Terrorist hackers have shut down the power grid. Phone service, including 911 dispatch, is out. Cell phones don't work. How to communicate?
Stop by the drill and find out!
Similar exercises are being conducted in Broadview, Wedgwood, Wallingford, Green Lake, Queen Anne and Magnolia.
Oh, and let me repeat: This is ONLY a drill.
The Maple Leaf team is communicating with other neighborhoods, including Wedgwood. A sign from Wedgwood is below.