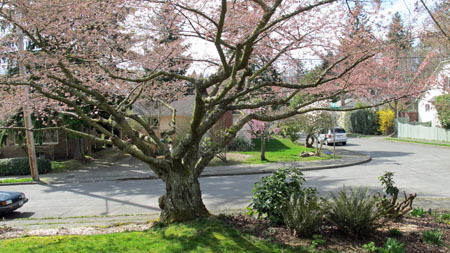 Photos courtesy Dawn Siegel
We reported back in January on the Heritage Trees of Maple Leaf. Now one of them has become more famous.
Dawn emails:
We are excited to announce that our flowering cherry Prunus x yedoenisis "Akebono" has been awarded Best in Neighborhood by the Heritage Tree organization, a division of Plant Amnesty. The tree is believed to be between 80 and 100 years old.
The tree is on the corner of Northeast 90th Street and 12th Avenue Northeast. Dawn says they get so many questions about the tree that they have created a Facebook fan page, here.