In case you missed the post from Maple Leaf resident Casey Sheehan on our Facebook page, we wanted to make sure you heard about his call out for a few good men and women to compete for a cause.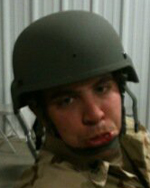 Sheehan, who is currently on active duty in Kuwait, is getting out of the Navy in July, but he doesn't plan to let all of his physical labors go to waste. When he gets back, he plans to start training for the Toughmudder obstacle course, and he's hoping a few neighbors will join him – he's even named his team Maple Leaf Life!
Those of us who aren't military trained may have to start training without him, though, since the main Toughmudder website explains that the event, which takes place in Seattle Sept. 29-30, is "Probably the toughest event on the planet":
Tough Mudder events are hardcore 10-12 mile obstacle courses designed by British Special Forces to test your all around strength, stamina, mental grit, and camaraderie. With the most innovative courses, half a million inspiring participants, and more than $2 million dollars raised for the Wounded Warrior Project, Tough Mudder is the premier adventure challenge series in the world.
If that sounds like too much of a challenge for you but you'd still like to contribute, you also can make a donation on Sheehan's behalf to the Wounded Warrior Project via this link (he says the link says Strides for Hunger because of a third-party website issue).
And don't be deterred if you think you might bring down the team. Sheehan emphasizes that this this "not a race but a team thing." He adds: 
I chose it because its long, tough and about teamwork.  It breaks up the monotony of a marathon by having obstacles, and it seems to be a good time, with a free beer at the end, whats not to love?
If you're interested, Sheehan asks you to send him an email at captainsheenuts@hotmail.com.