Starting this week, you're invited to participate in a a citywide scavenger hunt to find "Corey – the Compostable Apple Cores," which sounds suspiciously like it has at least one stop right in Maple Leaf.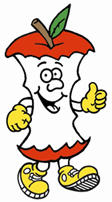 Called "The Big Dig," the event is organized by Cedar Grove Composting and Seattle Public Utilities to thank Seattle residents for composting more than 125,000 tons of food and yard waste in 2011.
The scavenger hunt, which started this week and continues through April 11, consists of daily clues on Cedar Grove's website, which will lead participants to find a "Corey" posted at 30 different retail and community sites in the city.
Every participant who finds a Corey will win a coupon redeemable for a free bag of Cedar Grove Compost, and all participants also will be entered into a daily drawing to win a pass to participate in The Big Dig finals on Saturday, April 14. But becoming a finalist is no walk in the park, although it does take place at Seattle Tilth's Rainier Beach Urban Farm and Wetlands, where finalists will dig through 30 yards of compost to find $6,000 in hidden treasures, including a $3,000 yard makeover.
Cedar Grove tells us there are three Coreys hidden in and near Maple Leaf. Here are their corresponding clues:
This location within an open-air lifestyle center plays host to events with authors, photographers, and artists all while incorporating a love of dirt and gardening.
This location, most commonly known for organic foods, started a private nonprofit organization that alleviates poverty through microcredit. Find its location in a neighborhood named after a President of the United States.
All 4, 400 of these stores located around the United States are independently owned and operated by local entrepreneurs. This local one is just a walk from a snappy dragon.
I hope all of you get at least that last Corey! If you do, here are the ways you can enter the contest:
By submitting the Corey code and participant contact info to Cedar Grove's website form
By emailing the photo of Corey, the Corey code and participant contact information to bigdig@cgcompost.com
By emailing the street location and Corey code, along with the participant's email to bigdig@cgcompost.com
Good luck, composters!