Eight years before the planned opening of Northgate Station, it can be difficult to visualize the enormity of the construction project and how it will look in the end. But the following illustrated video from Sound Transit does a pretty good job of showing us what we're in for. 
Perhaps even more informative is the slideshow presented at last week's open house, which explained many of the measures Sound Transit is taking to limit Maple Leaf's exposure to construction issues.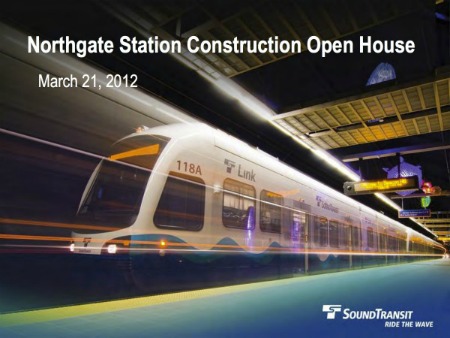 So far, it appears the majority of the work will be near the portal exit at Northeast 94th Street and First Avenue Northeast, starting with overhead powerline work estimated in late 2013-2015 along First Avenue, from 94th to Northeast 107th Street.
First Avenue also will bear the brunt of the construction traffic, though plans are to otherwise try to keep trucks at a minimum in the neighborhood (view the truck route on slide 22 on the presentation.)
Although noise will be a bigger topic at the next open house, at this time we're told there will be noise limits on the construction work from 10 p.m. to 7 a.m. weekdays, and from 10 p.m. to 9 a.m. weekends and holidays, and that daytime construction activities will comply with city's construction noise limits. In addition, plans include 
A solid plywood construction screening wall 16 feet in height,
Stationary equipment (compressors, generators) enclosed in noise reducing material
Trucks – no beeping alarms at night
Independent monitoring 
Seattle Transit Blog had a nice writup on the meeting, including an update on the pedestrian bridge from North Seattle Community College to the light-rail station. Although it's still an option to include in the project, with a price tag of $16 million to $20 million, it still has a long way to go. In the editorial, the Seattle Transit Blog suggested that Sound Transit choose the bridge over building an additional parking garage, which might be needed to replace the 117 stalls that the project will permanent displace. It writes:
Sound Transit is currently bound by the Federal Transit Administration to replace those 117 spaces. Sound Transit could seek an exemption from the FTA – with abundant private parking and the potential for Metro to re-purpose much of their Northgate-Downtown service to feed into the station, we don't feel forging ahead with parking replacement is a good use of transit dollars.
Do you have a preference between additional parking spaces at the bridge? Any other observations from the meeting or the presentation?