Solarize Northeast Seattle just started its campaign to help area homeowners add more-affordable solar panels at the start of this year, and already its got a home ready for installation of new solar panels.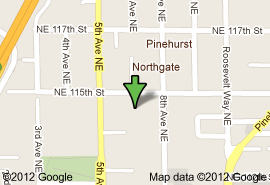 On Wednesday, March 7, from noon to 1 p.m., you're invited to learn more about the campaign and about solar panels at the celebration of the installment of a 21-panel, 3.99-kilowatt system at the just north of Maple Leaf on N.E. 115th St. From a new release about the installation, which is the first in this current campaign:
Solar installers from NW Wind & Solar will use a bucket truck to transfer material from ground-level to the roof, while representatives from Northwest SEED, Sustainable NE Seattle, A&R Solar, and NW Wind & Solar will be on hand to explain how the system works and provide a tour.

To date, more than 215 Northeast Seattle residents have registered to participate in Solarize Seattle: Northeast, a community effort designed to drive solar installations through a group purchase program. The campaign's limited-time offer provides residents with a discounted price on solar and takes community members through a step-by-step process to purchase solar systems for their home or business. With the community leadership of Sustainable NE Seattle and Northwest SEED, the Solarize campaign intends to install more than 200 kilowatts of solar energy in Northeast Seattle by the summer of 2012 – enough annual energy to completely power 22 homes or 83 electric cars.
Residents residing in the 98105, 98115 and 98125 ZIP codes are eligible to participate, and you can learn more at the next Solarize Seattle: Northeast Workshop from 1:30-3 p.m. Saturday, March 24, at the Northgate Library, 10548 Fifth Ave. N.E. Meetings are open to the public and do not require registration.
You also can learn more at the Solarize Northeast Seattle website, or contact Northwest SEED project coordinator Alexandra Sawyer at 206-457-5403 or alex@nwseed.org.
Editor's Note: The name and address of the residence this event took place at has been removed at the homeowner's request.