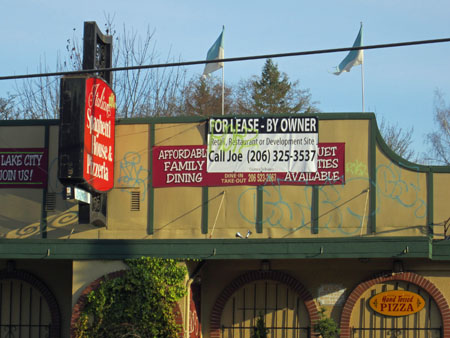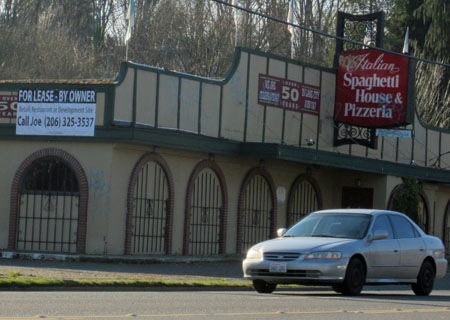 The fence around the former, much-loved Italian Spaghetti House & Pizzeria is gone, and a "for lease" sign is up.
Will it reopen as a restaurant?
The sign says "retail, restaurant or development site. Call Joe."
Joe hasn't returned our call from last week.
A reader in Wedgwood emailed this week that she saw the sale in the Puget Sound Business Journal.
I read that the Spaghetti House Restaurant at 9824 Lake City Way was sold on January 9. The buyer is ISH Restaurant LLC, 2900 NE Blakeley St., Suite B, Seattle 98105. The purchase price was $1,200,000.
The registered agent for that LLC is Joe – Joseph L. Brotherton.
Our reader points out that neighbors, and the community councils of both Maple Leaf and Wedgwood, have expressed concerns about the arrival of strip clubs along Lake City Way.
Since the old restaurant closed last year, a new neighhbor has moved next door, medical marijuana dispensary Greenside Medical at 9804 Lake City Way N.E.