Apparently snow, ice and below-freezing temperatures are good influences on criminals.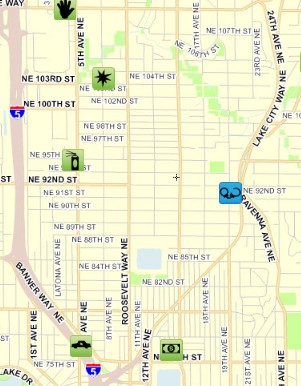 At right is the police crime map for the past week, since snow started falling last Saturday, Jan. 14.
That's a home burglary and a commercial burglary in the middle, a couple of shopliftings at the top, and a car prowl at the bottom.
By comparison, the map for the previous week is below.
This also happened in November of 2010, when we wrote "it appears nobody wants to be a burglar when it's 20 degrees out
and very easy to track your footsteps in the snow."
The map comparison isn't exact. It can take a while for police reports to show up on the map, so there are almost certainly crimes that we're not aware of.
One we do know about, and don't see on either map, is an apartment break-in near Northeast 88th Street and Roosevelt Way.
It occurred on Friday, January 13, probably between 8 a.m and noon. The front door was damaged.
There was also a scary moment on Wednesday night, January 11, when a home owner in the 900o block of Fifth Avenue Northeast called 911 to report finding an unknown man inside his home.
According to the police report:
He arrived home around1230 hrs today and got into the shower. Shortly after starting his shower he heard a loud crashing sound, he got out to investigate. He stepped outside the bathroom, as he glanced towards the kitchen he saw an unknown W/M standing in middle of the kitchen. The male was described as possibly white or mixed race (olive complexion), 6'2″ tall, clean shaven, around 200lbs, wearing blue jeans, blue jacket, and had on white tennis shoes.
The homeowner yelled at the man, who ran out his kitchen door and into the backyard, shouting "I'm going to kill you," according to the report. The suspect then got into a gray 1990s Honda Accord and drove off down an alley, police said.