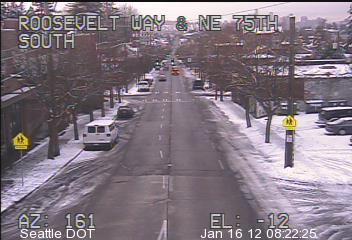 With more snow in this afternoon's forecast, and and a possible major storm arriving Tuesday night into Wednesday, here are two tools that could help commuters.
Live traffic cams are being tested by the Seattle Department of Transportation, including several in Maple Leaf.
Hover over the camera and get a live view of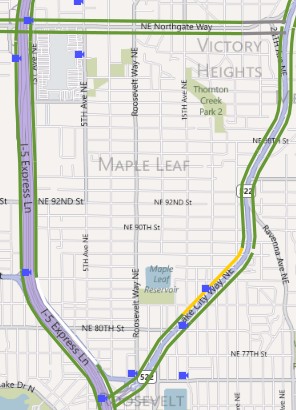 road conditions.
(Also, in theory you can track  snowplows here.)
Cliff Mass and the University of Washington have unveiled a "SnowWatch" tool that gives both estimated and predicted snowfall for the area.
As to that major storm, here's KOMO's prediction: "All of the greater Puget Sound lowlands will likely see at least 6 inches of snow by late Wednesday morning."
And here's the current Special Weather Statement from the National Weather Service's Seattle office.
A POTENT PACIFIC STORM WILL IMPACT ALL OF WESTERN WASHINGTON
LATE TUESDAY NIGHT AND WEDNESDAY. THIS SYSTEM HAS THE
POTENTIAL TO PRODUCE SIGNIFICANT SNOWFALL AMOUNTS ON BOTH
THE MOUNTAINS AND LOWLANDS. THIS COULD RESULT IN POWER OUTAGES
AND HAZARDOUS WINTER DRIVING CONDITIONS...ESPECIALLY ON THE
LOWLANDS. AT THIS TIME... EXACTLY HOW MUCH SNOW WILL FALL
AND EXACTLY WHEN THE SNOW WILL CHANGE OVER TO RAIN ON THE
LOWLANDS WERE STILL UNCERTAIN.

And this, in the NWS forecast discussion:


VERY HIGH IMPACT WINTER WEATHER IS EXPECTED
THROUGH WEDNESDAY NIGHT OR THURSDAY.
SNOWFALL AMOUNTS AT SEATAC COULD EXCEED
ANYTHING SEEN SINCE NOVEMBER 1985...
A TOP 5 RECORD 24 HOUR SNOWFALL AMOUNT.