With snow falling for the third day in a row and counting, it might seem like a weird time to learn about an initiative to educate Northeast Seattle residents about solar panels, and help them install the energy-saving systems more affordably.
But you've got some time to mull the details about the Solarize Seattle: Northeast project, which invites residents of the 98105, 98115 and 98125 ZIP codes to begin registering for the project starting tomorrow, Jan. 17. Registration, which allows residents to learn more information about adding solar panels but doesn't require you to take any action, ends April 23.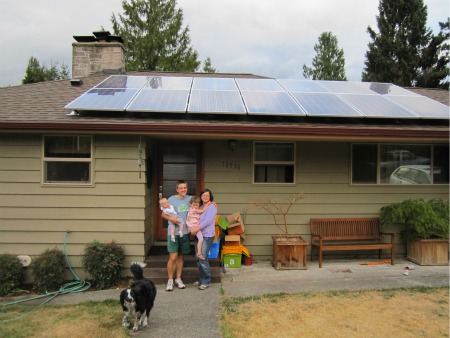 As we wrote in the blog post "Solarize Seattle adding Northeast branch," Solarize Seattle is a program of Northwest SEED that has teamed up with Sustainable Northeast Seattle in this project. Sustainable Northeast Seattle tells us:
Solar power is viable here in Western Washington; it can save money, help reduce carbon emissions and help with energy independence. The "Solarize" projects are neighborhood efforts designed to bring affordable solar energy to Seattle residential neighborhoods and the next Solarize Seattle project will be available for zip codes 98105, 98115 & 98125. The project, "Solarize Seattle: Northeast", is getting started with the help of the nonprofit organizations Northwest SEED and Sustainable NE Seattle.

Neighborhood volunteers are working to get information about the project out to the eligible areas because registration for participation starts soon, January 17, 2012 and ends April 23, 2012. Free informational workshops make attendees eligible for a free assessment on solar installations by experienced vetted contractors. Savings are increased using group buying power, plus, state and federal incentives, making this project an excellent opportunity for affordable solar installations.

Queen Anne completed their project, Magnolia is completing theirs and NE Seattle is ready to be the next area to take advantage of this local effort to increase affordable residential solar installations. More information is at www.solarizewa.org (or www.solarizeseattle.org) and interested neighbors can sign-up now at the website to get an email when registration begins January 17.
For more information, contact Northwest SEED project coordinatorAlexandra Sawyer at 206-457-5403 or alex@nwseed.org.