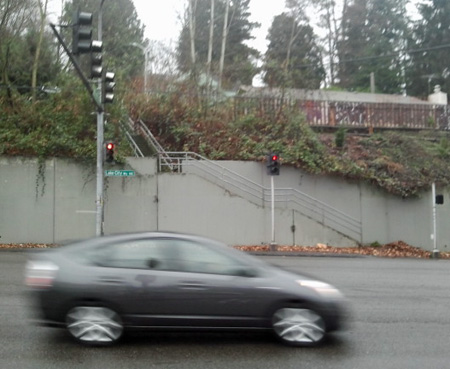 By Mwiza Kalisa
In most of Maple Leaf sidewalks end around Northeast 85th Street, but a new stretch of sidewalk going in on Lake City Way this spring proves there is still hope that the North End will someday become more pedestrian-friendly.
The new sidewalk, bridging a span of Lake City Way from the staircase at Northeast 95th Street, is connected to a six-unit housing development being built at Northeast 95h between Lake City Way and 20th Avenue Northeast.
The Maple Leaf Community Council and neighbors have been actively supporting the sidewalk addition, which will provide safer access to nearby Sacajawea Elementary School, among other schools and bus stops.
Initially the developer had no plans to construct a sidewalk, arguing that since the houses wouldn't have access to Lake City Way, a sidewalk didn't have to be built. But with plans to convert the staircase just west of Northeast 95th into a driveway for a development, the Maple Leaf Community Council ensured that the city require the sidewalk.
"Because sidewalk funds are so limited in the city, as neighborhood advocates you resign  yourselves to the fact that you take what you can get," said David Miller, a member of the council's executive board. "We didn't get everything that we wanted, but you never do. We get a sidewalk on Lake City Way, which never would have happened any other way."
Many community members, especially parents, are concerned about the impacts of the construction site. Parents are worried about the safety of their children at Sacajawea, located on 20th Avenue Northeast.
Scott Kemp, a city senior land use planner at the Department of Planning and Development, said that the school district has expressed similar concerns. To protect schoolchildren during construction, the developer has proposed to improve the intersection of 20th Avenue and 95th street. [Read more →]