All photos courtesy Dane Doerflinger Photography
The photographs from Saturday's tour inside the Maple Leaf Reservoir are in, and they are stunning.
We're posting some of them here, the rest are at Dane Doerflinger's photo sharing site, here.
Our thanks to Dane, a neighbor, who also has supplied Halloween photos to Maple Leaf Life, and who shot the Maple Leaf Summer Social for us this year and in 2010.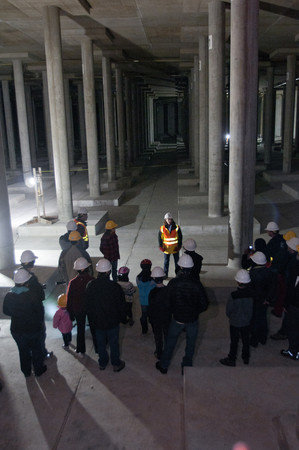 On the right (in safety vest) is Stephanie Murphy, Seattle Public Utilities' project manager for the site, addressing one group Saturday morning. It was raining lightly outside, with temps in the 30s, but down under it was 44 degrees and dry.
Here's some information from the fact sheet Seattle Public Utilities was handing out Saturday:
In 1994 the state Department of Health required all water systems to submit plans and schedules for covering open reservoirs.
Post 9/11 concerns heightened scrutiny of the reservoirs, and in 2002 then-Mayor Greg Nickels advocated burying them as opposed to devising floating covers. The City Council approved that plan in 2004.
Burying the  Beacon Hill reservoir (50 million gallons) was started in May 2006 and finished in February 2009.
The Myrtle Reservoir project (5 million gallons) started in July 2006 and finished in July 2008.
In West Seattle, construction on that reservoir (30 million gallons) started in July 2008 and finished in July 2010.
The Maple Leaf Reservoir was originally built in 1910. The current project to bury it began in September 2009 and is to end in April 2012.
It is the largest of the four reservoirs to be buried, at 60 million gallons in two separate "cells," divided by a concrete wall down the center of the tank. We've been reporting on the project since the winter of 2010.
Total cost for the Maple Leaf project is $49 million; for all four reservoirs it hits $140 million.
According to Seattle Public Utilities, the Maple Leaf Reservoir:
Is 494 feet wide by 666 feet long.
Has 768 underground columns, 20 feet apart.
Each column is 2 feet in diameter and 25-35 feet tall.
The walls are 22 inches thick.
Will have 11 inches of drain rock and 10 inches of topsoil on top of the lid, along with grass.
Will add 16 new acres to the Maple Leaf Reservoir Park.